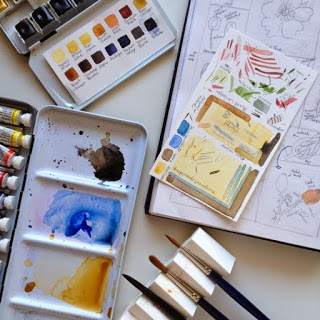 Hi and welcome! My name is Marina, I'm italian and I currently live in Rome with my other half and our two kiddos.
I'm a daytime engineer and a nighttime artist and occasional crafter, completely in love with watercolours, botanical illustrations and travelling journals.
I'm constantly inspired by nature and its beautiful patterns, fascinated by the changing of the seasons and amazed by wild flowers and plants. I dream of a house in the countryside close to the sea, with a mediterranean garden. In the meantime, I grow succulents on my tiny balcony.
I created this space many years ago to show my work, experiment with colours and document the everyday; you will find sneak peeks of my sketchbook pages, craft projects, family life and personal rambles. Thank you for visiting!
Click here to listen to my chat with Bethan from "journaling with nature".


ART COURSES
Disegno e Acquarello Botanico with Aurora Tazza (Atelier Rosa Gallica – Roma, Italy), 2016
Summer Art School – Botanical Art with Marcia Hughes (Adult Community College – Richmond, UK), 2010
The Darling Buds of May – Flowers drawing and painting with Elisabeth Sherras Clark (East Clandon – Guilford, UK), 2010
Botanical Art – Drawing and Watercolour with Marcia Hughes (Landmark Arts Centre – Teddington, UK) 2009-2011
Watercolour solutions with Songul Yilmaz Meier (Kingston Art Centre – Kingston upon Thames, UK), 2008-2009
Perspective drawing and painting with James Willis (Sir John Soane's Museum – London, UK), 2008
Watercolour through the seasons with Songul Yilmaz Meier (Kingston Art Centre – Kingston upon Thames, UK), 2006-2008
FAQ
If you would like to have a question answered, please email me at info@marinacerra.com
Photo credit: Rosanna Gallo / Marina Cerra