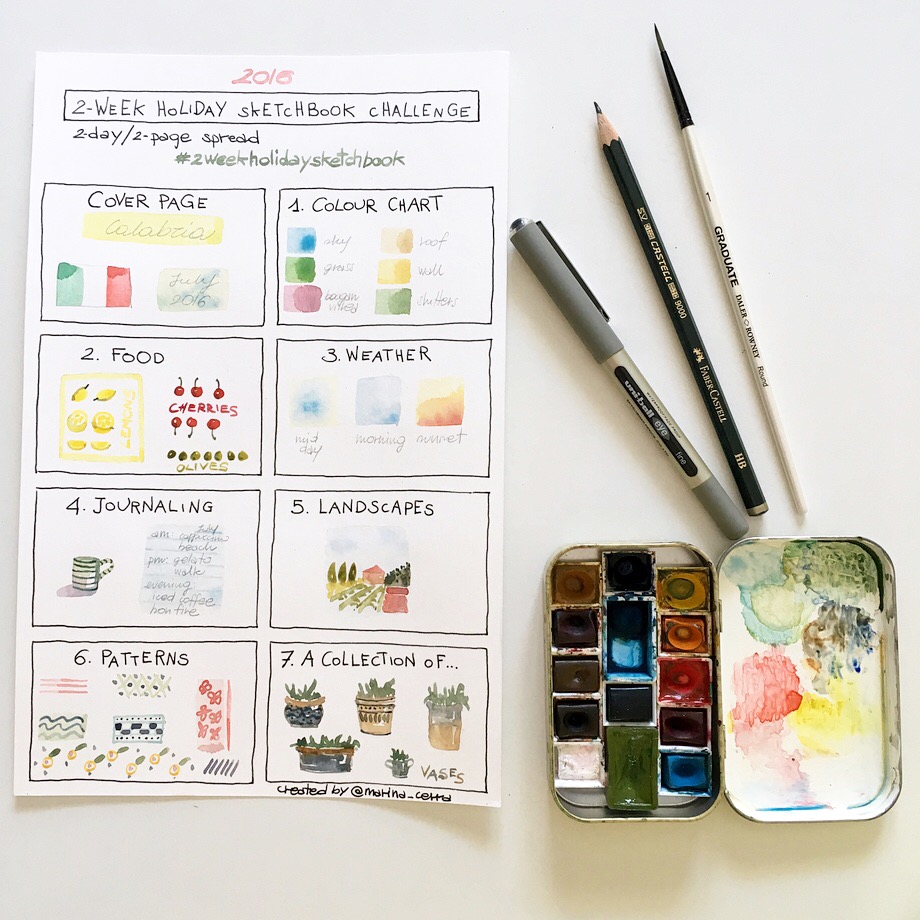 The holiday season is upon us and like every year I like to set out some plans for creating memories and recording the summer time in a way that is not just taking pictures and let them sit on my laptop for the years to come. I love travel journals, but with a busy family schedule during the holidays is becoming more and more difficult to set aside the time to fill in a sketchbook.
This summer I'm going to try a different approach and inspired by
Sara Midda's South of France – A sketchbook
, I've put together an easy sketchbook challenge to help me make a visual record of my two week summer holiday.
The challenge is open to everyone interested in creating a holiday sketchbook.
It contains a total of 7 prompts + 1 for the cover page. Each prompt will be developed over two days on a two-page spread to give me, and you, the chance to plan the page, gather informations and make up the time to complete it.
I will be using mainly watercolours, but really any other material or technique (photos, collages, etc) will do.
List of (suggested) materials
8 loose sheets of paper (I will be using A4 watercolour sheets)
pencil + eraser + pencil sharpener (I will be using an HB pencil)
black sketching pen (I will be using a Staedtler 0.1 black liner)
brushes (10mm flat sable, no. 5 round sable, no.1 round synthetic)
watercolours (I will be using a travel set I made out of a mint tin, containing: winsor yellow, indian yellow, scarlet lake, alizarin crimson, cerulean blue, french ultramarine, turquoise, winsor green blue shade, olive green, yellow ochre, burnt sienna, raw umber, burnt umber, titanium white)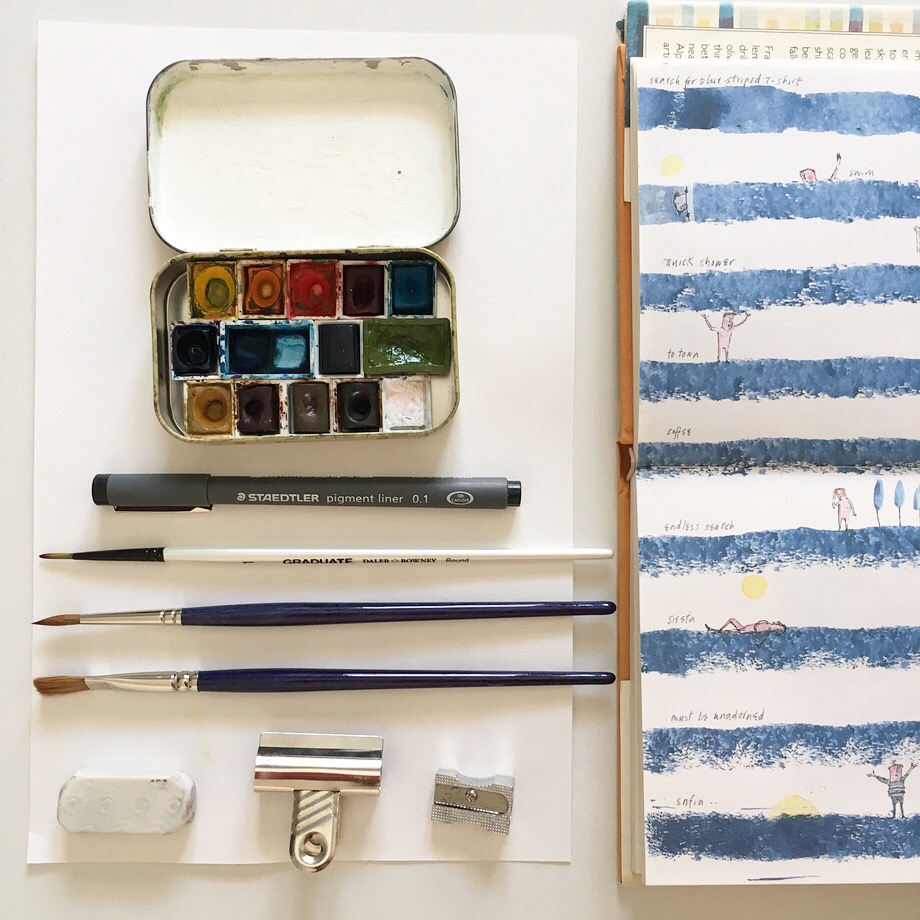 List of prompts
Cover Page: Create a front page for your sketchbook. It could be a fun and colourful front cover or a more descriptive one, adding places and dates of your holiday.
Colour Chart: Create one or more colour palette based on the surroundings. It could be based on the colours of a landscape, a garden, a house, whatever catches your eyes, or all of the above. Next to each colour write down the object it refers to; i.e. olive tree, rose, shatter, plate, sky, etc.
Food: Create a page to depict the local food. It could be seasonal food, a special recipe, a list of favourite plates, a restaurant menu, your breakfast, a holiday treat.
Weather: Create a page to take notes about the weather during your holiday. It could be a weather legend, a 24-hour pie chart with the sky's colour for each slice, the weather forecast for the 2-week holiday.
Journaling: Create a page for your journaling notes to include facts, quotes, dooddles, weather, feelings, daily routine.
Landscapes: Create a set of thumbnails to show the surrounding landscapes or local sceneries (beachscapes, cityscapes, local markets, etc)
Patterns: Look for patterns around you and create a series of small thumbnails adding some notes.
A collection of…: Create a spread of objects that caught your attention. It could be something from nature (flowers, plants, trees, fruits, stones, etc.), from the surroundings (house numbers, windows, signs, etc) or simple objects (vases, bags, shoes, mugs, etc).
I've created 2 different downloadable summaries of the prompts to use as a reference (look at the end of the post), so you can have it with you the whole time during your holiday.
There's really no right way of doing this; you can finish off each page spread or leave blank spaces to add things later on; you can add more prompts or complete the given ones within a week.
The challenge can be tailored to meet your specific needs.
I will be posting each prompt and my personal take on it on Instagram every other day starting Friday 15 July 2016.
Everyone is welcome to join in! Simply use the prompts as your inspiration and use the hashtag #2weekholidaysketchbook if you are posting your pages on Instagram so we can all see your work and tag me @marina_cerra if you are joining in.
You are more than welcome to do this challenge on your own blog, just link back to this post. Thanks! Also let me know in the comments if you decide to join in; I'd love to see where your creativity takes you. Feel free to share the list and invite your friends to join along with you.
Happy creative holiday!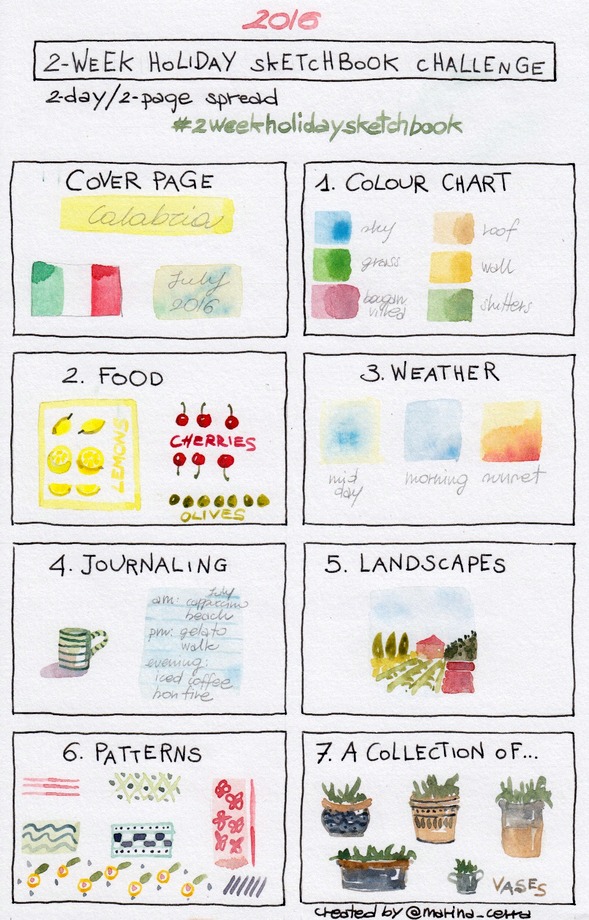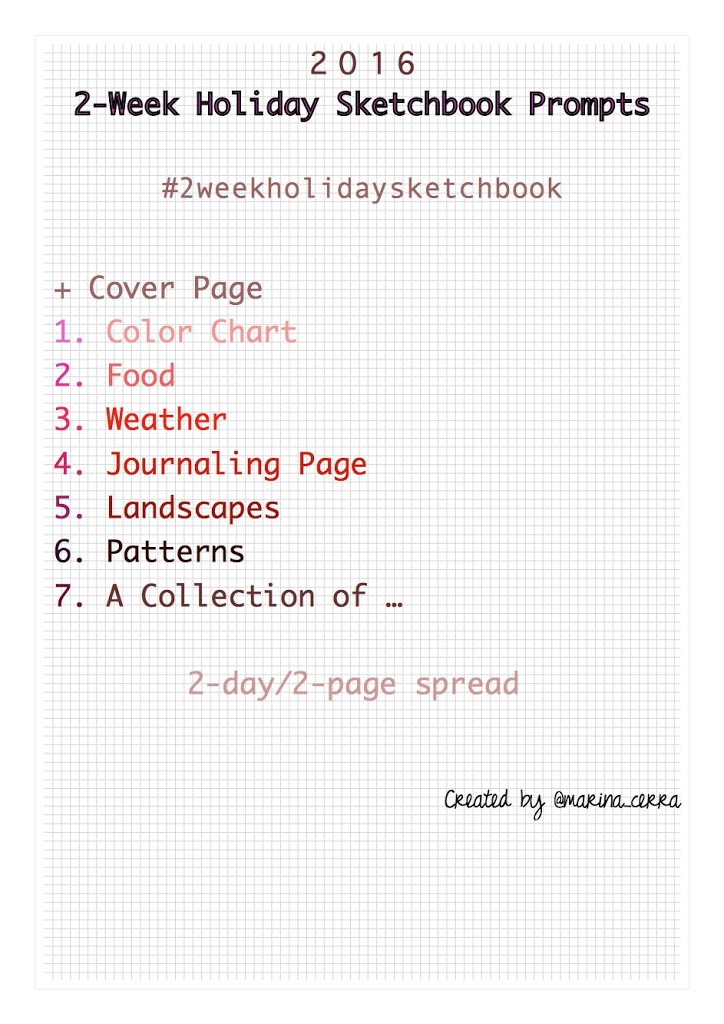 Downloadable jpgs (for personal use only)